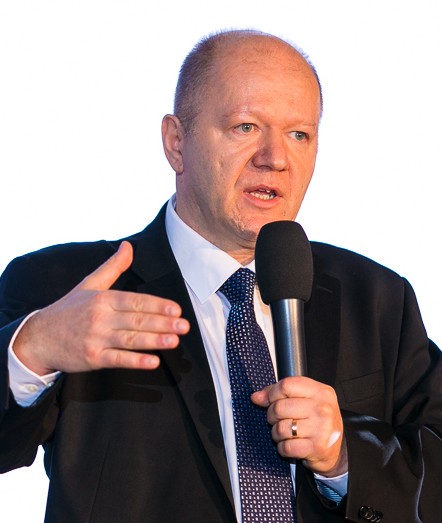 Contact:

Dorin.Comaniciu at siemens-healthineers.com
Linkedin:
linkedin.com/in/dorincomaniciu
Dorin Comaniciu serves as Senior Vice President for Artificial Intelligence and Digital Innovation at Siemens Healthineers. His scientific contributions to computational imaging and machine intelligence have translated to multiple clinical products focused on improving the quality of care, specifically in the fields of diagnostic imaging, image-guided therapy, and precision medicine.

Dr. Comaniciu is a member of the U.S. National Academy of Medicine and a Top Innovator of Siemens. He is a Fellow of IEEE, ACM, Medical Image Computing and Computer Assisted Intervention Society, and American Institute for Medical and Biological Engineering. Recent recognition of his work includes honorary doctorates from Friedrich-Alexander University of Erlangen-Nuremberg and Titu Maiorescu University of Bucharest.

Here are a couple of highlights of the translational innovation of Dr. Comaniciu and team:

Comaniciu has been featured in the book Innovative Minds and has given multiple keynote talks. A Distinguished Alumnus of Rutgers University's School of Engineering, he received the 2004 Siemens Inventor of the Year Award, 2010 IEEE Longuet-Higgins Prize for 'fundamental contributions to computer vision', and the 2011, 2013, 2015, and 2019 Thomas Alva Edison Award for patents on 3D heart modeling, anatomical object detection and personalized valve therapy. He served as the scientific director of the European project Health-e-Child, which was granted the 2008 Europe's Information Society Grand Prize.

Comaniciu is listed on Wikipedia's list of prolific inventors with more than 500 granted patents (319 US and 237 international) in the areas of machine intelligence, medical imaging and computer vision. He has co-authored 350 peer-reviewed publications, including best papers in CVPR and MICCAI, co-wrote the book Marginal Space Learning for Medical Image Analysis, and co-edited Artificial Intelligence for Computational Modeling of the Heart. His publications have 57,000 citations with an H-index of 90 according to Google Scholar. During his early work in computer vision he introduced a popular family of robust methods for image analysis and tracking based on the iterative procedure Mean Shift.

A graduate of the Advanced Management Program at the University of Pennsylvania's Wharton School, Comaniciu received a doctorate in electrical and computer engineering from Rutgers University and a doctorate in electronics and telecommunications from Polytechnic University of Bucharest.

Dorin is advocate for technolpogy innovation that enhances and saves lives. He supports the Annual Prize for the best STEM Olympiad results at his former high school Radu Negru in Romania.